Welcome to the world of Steelpallet, We are an innovative company that specializes in warehouse and logistics solutions.Our mission goes beyond ensuring a safe and orderly process for your material handling. We aim to make your supply chain operate with the reliability and efficiency of a finely tuned timepiece. Our clients span various sectors, from manufacturing and logistics to warehousing and beyond. They have found answers to their material storage and shandling challenges here, leading to increased work efficiency and reduced operational costs. At Steelpallet, we offer more than just products - we provide solutions. With our expertise and passion, we're here to fuel your business. Our mission is to use top technologies to boost global manufacturing logistics efficiency.
Mission: To integrate the best technology to enhance the logistics efficiency of global manufacturing.
We are committed to developing and providing efficient, safe, and orderly material handling and storage solutions to help our global manufacturing customers improve production efficiency and reduce operating costs.
Vision: To be the global leader in customized logistics equipment.
We not only provide standard products, but also offer customized solutions based on the specific needs of our customers, to meet a variety of complex and special logistics needs.
Values: Rigor, Passion, Professionalism, Innovation
Rigor: We ensure that every product is meticulously made, and every service is carefully provided.
Passion: We always face challenges with a positive attitude and win the trust of our customers with passionate service.
Professionalism: We have the ability to provide the best solutions to meet various customer needs.
Innovation: We continuously explore new technologies and methods to provide better pro.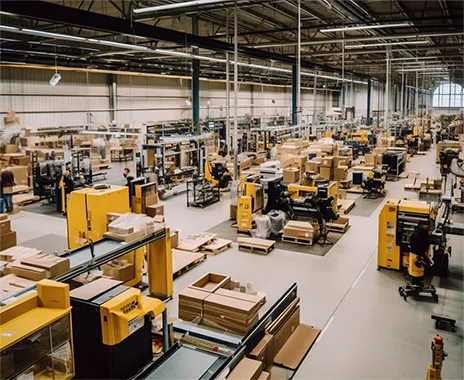 In 2007, Steelpallet was established in Liaoning, China, with a mission to provide excellent sheet metal storage and handling solutions to enhance logistics efficiency in the global manufacturing industry. Our team is characterized by rigor, passion, professionalism, and innovation, always committed to delivering the highest quality products and services to our customers.
Over time, Steelpallet has grown and expanded, establishing a second factory, obtaining ISO9001 international quality system certification, and venturing into import and export business. Our product line has also diversified, including rolling containers, pallet boxes, stacking racks, storage shelves, and steel pallets, each reflecting our pursuit of technology and innovation.

However, Steelpallet is not content with the current achievements; our vision is to become a leader in customized global logistics equipment. To realize this vision, we not only offer standard products but also provide tailored solutions to meet various complex and specific logistics needs of our customers.
Today, Steelpallet boasts an 8000-square-meter factory area, with a monthly production capacity of 8000 units and a team of 20 product development engineers. Our products and services have earned the trust and praise of customers worldwide, and our brand story continues as we move towards a more promising future guided by our mission, vision, and values.

We carefully and meticulously inspect every product because we understand that your trust and satisfaction are of utmost importance to us! Each order is meticulously packaged and handled with care to ensure safe delivery to your hands, hoping to bring you endless joy!
We take pride in having a professional team of engineers and sales customer service representatives who are always ready to go the extra mile, not only to address your doubts and concerns during our collaboration but also to provide you with meticulous and attentive service like a butler!
We deeply understand that every collaboration is a touching experience, and your satisfaction is our ultimate pursuit and wish. Let us move forward hand in hand, cherishing every bit of your trust with heartfelt dedication, and conveying the boundless warmth behind our products!