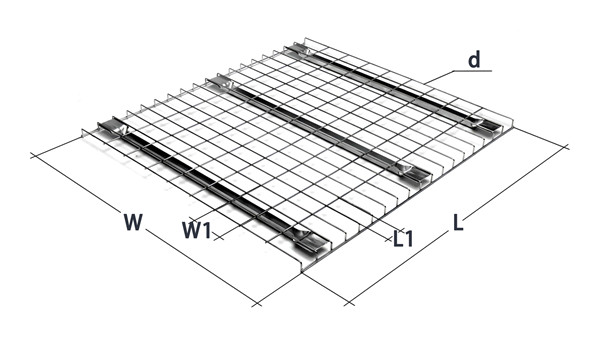 Code
(mm)
Material
Finish
Size
L
W
L1
W1
d
1
/Customized
/Customized
50
50
5
Q235
/Cold Galvanizing
2
/Customized
/Customized
50
100
5
Q235
/Cold Galvanizing
3
/Customized
/Customized
50
50
6
Q235
/Cold Galvanizing
3
/Customized
/Customized
50
100
6
Q235
/Cold Galvanizing
ADVANTAGES
1.Visualization for easy management.
2.The grid-type laminate is firm, with strong bearing capacity, which is convenient for clean storage of bulk cargo.
3.The installation of network-type laminate does not need any tools, but can be directly placed between the beams.
4.Manual storage, no need for tray storage
5.The laminated screen design prevents objects from falling from the sky.
6.The installation of network-based laminates can make the size of the tray diversified on the shelf.
7.Stronger and safer than wood .
8.Custom designs available
9.Prevents product from falling off shelf level.
10.Better organization for FIFO — first in, first out — and picking planning